A Special Salehoo One Dollar Offer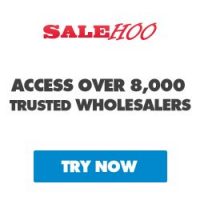 We went and negotiated for for our newsletter subscribers and website users and negotiated a VERY SPECIAL Salehoo One Dollar deal. If you haven't heard of Salehoo you can read more on our suppliers review page, but be sure to COME BACK TO THIS PAGE for your Salehoo One Dollar offer
For ONE DOLLAR (yes that's $1) you can now register for a trial membership of Salehoo!
What do you get with your trial membership?
Try SaleHoo totally risk-free for 7 days. At the end of your trial period, cancel or renew for 12 months for only $67.00
Access to the Supplier Directory with over 8,000 trusted and verified suppliers
Access to the  Market Research Lab (over 50,000 ideas) where you can unearth profitable markets and increase your profits
Fast, responsive customer support. Get help faster and get your business up and running sooner!
Full, instant membership to the SaleHoo community of over 137,000 experienced online sellers
60-day money back guarantee
This offer will be for a LIMITED TIME and you have nothing to lose by giving Salehoo a go. Click here or on the button below to get started.